Beauty
How To Get Started With Makeup (Drugstore and Highend)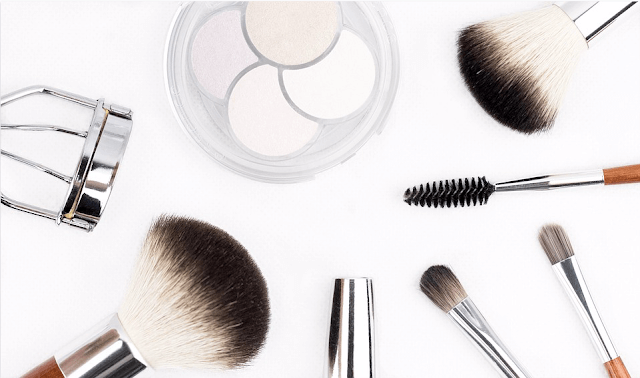 In the 21st century, markets and pharmacies are flooded with millions of cosmetics. It can sometimes be challenging to know where to start. Furthermore, some products can do more harm than good to your skin. Whether your skin is acne-prone, extremely sensitive or dehydrated, it is important to use safe and reputable formulas. I've researched and put together the best items you can start adding in your beauty arsenal. These products suit all skin types, function well and are in everyone's budget.
So let's get started with all the products you need to start wearing makeup.
Primer
Primer is like the base of good makeup. It can seem pretty useless, however, it plays a huge role in determining how your makeup will turn out. They provide a barrier between your skin and makeup, make makeup last longer, smooth out the skin's surface, blur out pores and even out the skin tone. If I still haven't convinced you yet, then let me tell you that the right primer will also keep blemishes at bay.
Drugstore
I recommend this one by Elf cosmetics, it's great for all skin types and has a nice satin finish. On top of that, it's priced at just $6.
Highend
As far as the high-end go, it can't get any better than the Porefessional by Benefit. Raved by beauty gurus on several platforms, this product will definitely give you the professional results it claims.
Foundation
After applying primer, foundation will literally be the foundation of your daily routine. This is the main component of your base makeup, responsible for evening out the complexion (even more), covering flaws and even changing your skin tone. Coverage varies from barely noticeable to fully caked, but here we'll be listing the ones with medium support.
Drugstore
Irrespective of the price, this makes it to one of the best options ever available. The most versatile of them all, coming in 40 shades, from fair porcelain to espresso. Additionally, fit me's available in most countries with the same cheap price tag.
Highend
This iconic beauty's a genie in a bottle. Made by the famous company, Giorgio Armani, it retails at USD $64, but most consumers say it's worth it. The kind of look and feel it gives to the skin is said to be priceless.
Concealer
The next best step, concealer is commonly used on the under-eye circles (as upside-down triangles), in between your eyebrows, on your eyelids (as a primer), on the bridge of the nose and under your nose or chin as well as any problematic areas of yours. Choose this 1-2 shades lighter than your foundation for optimal results.
Drugstore
Another great product from our favourite brand, Maybelline. It's tagged as America's no.1 concealer, if not the world's.
Highend
If you've got more buck to spend, then why not try the ultra HD concealer, by Make Up For Ever. It's a very creamy consistency and can be termed as the better version of the latter.
Translucent Powder
A must if you've got oily skin or have applied concealer and don't want a cake face on which makeup wears off in a just a few hours. It's suggested to apply loose powder on top of your foundation or concealer, depending on how oily your skin really gets. Leave it on for a minute or two and brush it off.
Drugstore
Rimmel's stay matte is a trustworthy option used by many and is guaranteed to give you your desired result. 
Highend
To get a better-finished look, opt for the Laura Mercier. You'll feel its effect for 12 whole hours, get no photo flashback and several other benefits. Also, it's non-comedogenic and oil-free catering to all the oily skinned beauties out there.
Brows
There is an uncountable number of brow products on the market, but I've grouped them all into one category. You can skip this step as a beginner, but I suggest adding this simple step, to avoid an incomplete look.
Drugstore
This 'micro brow' pencil comes in 8 unique shades and allows you to fill in your eyebrows with its pencil and brush them off with a spoolie. 
Highend
This waterproof brow pomade doesn't exactly come under the definition 'high-end' as it's priced at USD $18. It's also arguably the BEST brow product on the market and doesn't break the bank.
Eyeshadow
Bring a pop of colour to your face, or stick with neutrals, either way, you'll be looking much more polished and put together. Below are palettes that have got both neutral shades and vibrant ones, so you can choose what to go with.
Drugstore
This $5 Wet n Wild palette has both the neutral and defining shades we've been looking for and is of reasonably good quality. 
Highend
I agree with the fact that this Huda beauty palette is a bit of a splurge, but only until you haven't seen the shades it offers. The palette again has the neutral shades (that are highly in demand) plus some solid shimmery shades, like no other. 
Eyeliner
We all know what an eyeliner does and how it makes your eyes look bigger and stand out.
Drugstore
If you're on a serious budget but want something that works, then you've surely got to try this one. And it's not just available in black, but in pink, yellow, blue, green, purple, brown, grey and more.
Highend
Its name is pretty self-explanatory, and I'd say this one by Bobbi Brown is a good choice. 
Mascara
Mascara is essential for accentuating the lashes and making them fuller, longer and stronger. I always like to say the more mascara the better.
Drugstore
The truly sensational, Maybelline Lash Sensational tops the charts in this category for the results it gives. 
Highend
Very unique, in its name and formula. Perhaps you should try it out and see if it's actually better than it… 
Lipstick
Of course, the lips must not be neglected. Think about it. Would any makeup look be finished without adding something to the lips? I'm currently obsessed with liquid lipsticks, so I've included the best ones in here.
Drugstore
Put this on your lips, and you'll seriously be amazed. This product is so smooth and creamy and moisturizes the lips at the same time. I especially love their best selling lip lingerie collection. 
Highend
Call the NYX liquid lipsticks as a dupe of the highly-rated Kylie Cosmetics products! I'd be wary of buying them from anywhere other than her own site (https://www.kyliecosmetics.com/collections/lips), so make sure you buy these only from trustworthy sources. 
Blush
Its time to add a natural flush to your face and make your skin look even more healthy and youthful. Put a dash beneath the apples of your cheeks and you're good to go.
Drugstore
They say that baked blushes are actually baked and I don't disagree either. The Milani Baked Blush is very original, affordable and of good quality. 
Highend
If you're feeling adventurous, then go ahead and buy the bold and beautiful benetint. It's not your everyday normal blush, cause it's actually a liquid.
Highlighter
Shimmer, shimmer and shimmer is all that comes to the mind when we think of highlighters. You can put a trace of them like anywhere on your face, but it's best to stick to the inner corners of the eye, under the brow bone, and just on top of your blush.
Drugstore
A highlighter in a stick? Sounds like a bomb idea to me. It's even rated as the best overall drugstore highlighter at Byrdie. 
Highend
This expensive affair made by the famous Becca Cosmetics does what it's supposed to do and that too very well indeed. 
Makeup Tools
How can anyone forget this step? To apply all these products onto your face, you must be equipped with the right tools. There are no drugstore or high-end divides in this category, actually, I will be mentioning two things I feel are essential for you to start with.
1. Beauty Blender
Don't skip out on the most famous beauty sponge there has ever been. Use this pink goodness and see a different yet better version of your current foundation.
2. Brush Kit
Regarding the makeup brushes, I love the look of Morphe brush set collection, which has all the brushes you can ever want and is compact at the same time.
That's all folks!
Hope you enjoyed my specially curated makeup collection. There are certainly some other optional steps such as contouring, bronzing, etc which I will be mentioning in other posts. Leave a comment down below if you would like to share a few words with me.