Beauty
10 Of The Best Cheap Dry Shampoos That Won't Leave Chalky Residue On Your Hair
Dry shampoo is arguably the number one way to clean hair sans water. I mentioned it in my 11 Ways On How To Make Your Hair Less Greasy Fast article, a quick read for women suffering with the same problem. But, as with all other things, every dry shampoo product isn't created equal.
That's exactly why I've come up with this list of the top 10 drugstore dry shampoos. Because let's face it, many of us wouldn't really want to spend a fortune on such a basic item.
Best Cheap Dry Shampoos
1. Batiste Clean & Classic Original Dry Shampoo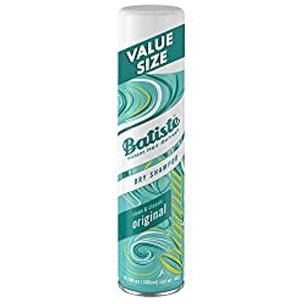 Last year's glamour beauty award winner, I haven't placed this classic first for no reason. Nasty hair oil is guaranteed to be gone in a few sprays of this bottle. The slight white powder it sometimes leaves behind, can easily be rubbed off. Also, the ingredients are vegan and sulphate-free.
2. Batiste Divine Dark Dry Shampoo
For darker haired gals, it's more convenient to simply use the tinted version of the same trusted shampoo. This one claims to be dark and deep brown in colour, perfect for brunettes or those with black hair. And just like all their varieties, you'll have the option of getting travel sizes too.
3. Dove Volume & Fullness Dry Shampoo

Who doesn't like a bit of an extra volume boost? My favourite soap brand, Dove has its own line of hair revival products, out of which I adore this specific one the most. Loads of beauty influencers swear by this, especially cause it's ultra cheap.
4. Tresemme Basic Care Dry Shampoo
As soon as you start to see signs of damage on your strands, pop on a bit of tresemme dry shampoo. Apart from doing their regular job, they work to create more healthier looking hair.
5. Not Your Mother's Beach Babe Texturising Dry Shampoo
Save this for the beach ladies! It does exactly what it says, giving that tousled texture to take hair from the beach straight to lunch, all while refreshing. Plus smelling like toasted coconut is always nice.
6. Garnier Fructis Volume Extend Instant Bodifier Dry Shampoo
You need to get your hands on the volume extend if you're having trouble with flat, fine and limp hair.  Thanks to its orange citrus and grape extract, it has got a sweet fragrance. You'll get to see it benefits for at least 24 hours from application.
7. SGX NYC Dry Touch Voluminising Dry Shampoo
 Super affordable, but still has the nice luxurious feel of high-end products! If there's only one purchase you make from this article, it's got to be this. The SGX does wonders for bringing back both  volume and texture.
8. Suave Professionals Keratin Infusion Dry Shampoo
Enriched with keratin, the suave professionals dry shampoo will do a big favour to colour-treated hair. So, you'll see your hair and dye being treated at the same time. Even otherwise, it's totally a steal.
9. Nexxus Between Washes Day 2 Refresher Dry Shampoo
The extra lightweight foam created by Nexxus leaves hair effortlessly cool. It goes on like a dream but is enough to remove the heaviest buildup. I love how all hair types are suited for it.
10. Loreal Elvive Extraordinary Clay Dry Shampoo
Ever heard of clay dry shampoos? Well this gem uses just that, powerful oil-absorbing clay to give you the hair of your dreams. It's got three powerful types of clays to instantly refresh your mane.